---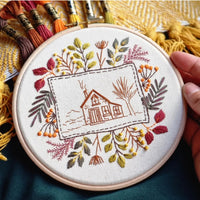 Sale
Home in the Forest
Nature has a profound affect on our senses. The quiet on a forest can enhance the beautiful sounds of nature. The colours that surround around us fill our gaze with delight. The fresh earthy smell of the forest  can linger on our clothes long after we departed. The crisp textures of leaves and the softness of the earth beneath our feet bring a welcoming carpet on which we lay our feet. 
I truly feel at Home in the Forest 
Earthy coloured threads have been used to recreate a forest daydream, capturing the colours of autumn and a fairy tale home. A beauty... enjoy!
Hand Embroidery and it's benefits
Hand embroidery can help to focus your mind whilst encouraging relaxation and calm. Embrace your creative by making something beautiful each month and I will be there to guide you within my hand embroidery community, should you feel that being creative is not your natural forte.

Studies have shown that being creative helps to relieve stress, increases happiness, improves memory, and can also increase your concentration. My hope is that hand embroidery becomes the perfect activity for down time and a soulful pleasure for you.

What is inside the Kit
Full colour booklet with photographic, step-by-step instructions 
Pre-printed fabric
Fabric stabiliser x2
6" embroidery hoop
Full DMC embroidery skeins
Bobbins to keep your threads neat and tidy
An embroidery needle
A needle threader
Backing card to finish your hoop art
You will also need...
Small scissors or embroidery snips 
Ohhh (and tea and biscuits) … *this, of course, is just a suggestion but I find tea and biscuits are necessary when I work*
My work style is inspired by nature around me. Beautiful florals and green botanicals feature heavily as well as Inspirational quotes, chunky textures, and beautiful detail. These are some of the features that will be present throughout the monthly subscription designs. Whatever the design, you will be sure to receive the most wonderful and carefully presented hand embroidery kit, designed and collated by me.
SMALL PRINT:
Created and designed by Natalie Gaynor and is copyright to Natalie Gaynor designs
©Copyright 2022 Natalie Gaynor Designs
All patterns and kits are for personal use only, please do not distribute/sell this pattern or finished products made from this kit
WARNING! Not suitable for children due to the inclusion of small and sharp parts. Embroidery needle is included in this kit. Keep out of reach of children. Handle with care!
Colours may vary slightly, computer monitors, tablets and phones can display different colour tones.
_______________________________________________________________________________________
If you have any questions, feel free to drop me an email at nataliegaynordesigns@gmail.com